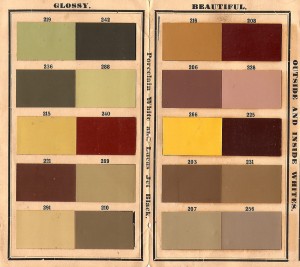 Historic Design Consulting will help you select  period-appropriate interior or exterior color palettes for your Victorian or Arts and Crafts era home or business.  Exterior color reports include a color palette appropriate for the style, age and setting of your historic home or business, a color map to show you or your painter where to apply the different colors as well as information about painting and preparation. Interior color reports include base colors for walls as well as complimentary colors for molding and millwork and suggestions for stains and finishes.
We use authentic, Victorian era paint swatches, brochures and advertising to develop authentic, historic color palettes that will accent your  building's special features while reflecting your own tastes.
---
For exterior color reports please visit the Exterior Paint Colors consult page.
For interior color reports please visit the Interior Paint Colors consult page.