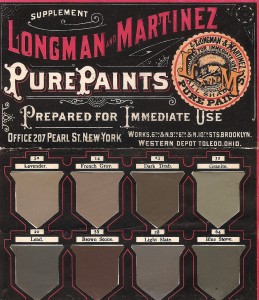 Historic Design Consulting will help you select an exterior color palette that will reflect your tastes and be appropriate for the style, age and setting of your historic home or business. Rather than relying on the limited selection of historic colors from modern paint manufacturers, we use the same materials people did in the 19th century.  These include period paint swatches, brochures and advertising.   We will help you select an authentic color palette that will complement your home's surroundings and accent its special features.
Once you have contacted Historic Design we will contact you to confirm your information and ask you for additional information if needed. After we have reviewed your information and photographs, we will send you a preliminary report containing two color schemes. Each color scheme will include one or more body colors and complimentary colors for trim, shutters and other details.   Paint colors can either be come from a national paint manufacturer such as Sherwin-Williams or, for an extra fee, be custom mixed colors from a collection of period swatches. You will then have an opportunity to study the color suggestions to see how they complement your home and its surroundings. If you approve of one of these color schemes, we will prepare a report that will describe color placement in detail. However, if you are not satisfied with one of the initial two schemes, we will develop another color scheme using your feedback and start the process again.
Your custom color report will include:
A custom report with a period color palette.
Color placement maps for your color palette.
Review of your photos where we identify your building's architectural style.
Colorized photo of your home showing the selected color palette.
Guide to period paint colors and paint application.
---
Please contact Historic Design Consulting as the first step towards you custom paint color report.