I grew up in a rural community in Northwest Iowa and have always had an interest in rural history and the people who lived in small towns.  As a kid I spent many days visiting my Grandparents in the farm community of Early, IA in the 1970s. Even at that time Early (which had a population of around 500) still had two grocery stores, a lumber yard, drug store, implement dealer, bank and number of other businesses in their downtown. 40 years later virtually all of Early's commercial district has been demolished leaving a row of empty lots. This is a common fate for rural communities as demographics and the rural economy change.
However, this does not mean that rural communities are giving up without a fight. Many are attempting to preserve their historic down towns, attract new businesses and market the benefits of small town life.  A recent article in the Fort Dodge Messenger News about the community of Lehigh in West Central Iowa is a good example of this struggle and the challenges small towns face when trying to preserve their commercial districts.
Lehigh is located in the picturesque Des Moines River valley about 80 miles northwest of Des Moines.   The town was settled in 1855 after two men built a mill to saw hardwood timber harvested along the Des Moines River. Coal mining became an important industry as well as brick making, which used the shale tailings from the coal mines and the fine river clay to produce fine bricks and tile.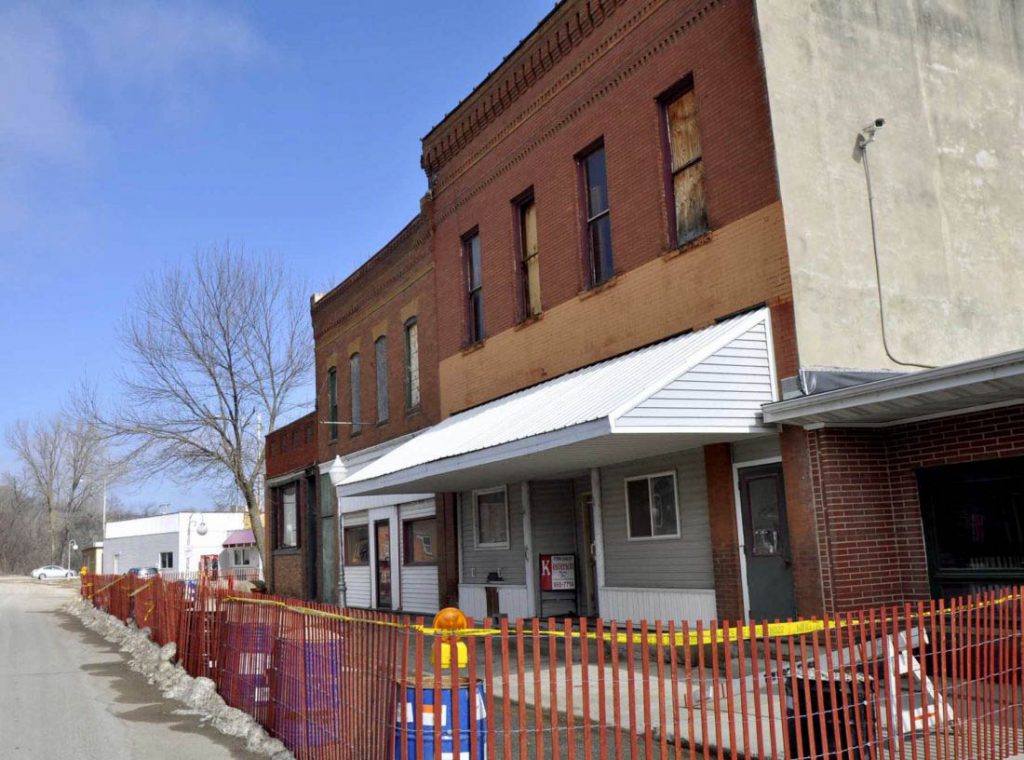 The problems facing small towns like Lehigh are common. Commercial storefronts are in poor condition after years of neglect, making them difficult to sell to investors. Many buildings that remain in usable condition are chopped up into apartments rather than used for businesses. Although there are benefits to supplying low-cost housing, these apartments do little to stimulate economic activity. In Lehigh years of deferred maintenance and neglect caused pieces of a building facade to fall during a recent storm, forcing the city government to close the sidewalk.  Although the buildings are for sale they haven't found a committed buyer willing to invest in the properties.  If no buyer can be found the buildings will be demolished, leaving a scar in the heart of the community.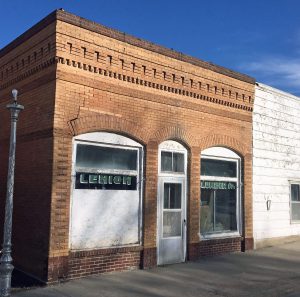 This begs the question: "What are small town to do?"  As with any large and complex problem, it should be tackled both with long term planning and short term strategy.  In the short term, cities should encourage owners of historic buildings to maintain them.  Routine maintenance is crucial as it prevents small problems from turning into large and expensive ones.  Roofs and flashing are the most important because even abandoned buildings will hold up well if water infiltration is eliminated.  Proper repointing along with window and door maintenance also do much to maintain a building's appearance and integrity.
There are resources and expertise available to small communities as they develop long-term strategies to encourage economic growth.  Although long-term planning can be a challenge for rural communities with small budgets and limited staff, there are state agencies and non-profits devoted to assisting small towns plan for the future.  Many states have Main Street programs supported by the National Trust for Historic Preservation that are devoted to using historic preservation as a key component of economic development.  Most states also have their own economic development programs designated for main streets along with tax incentives and grants.  Iowa has a Main Street program and Iowa Downtown Resource Center which offer expertise, planning tools, networking opportunities as well as grants and tax incentives.  With a little help rural communities like Lehigh can market their special character and history to attract investment and encourage growth.