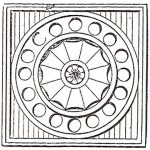 Format
We prefer digital images in the JPEG or TIFF formats. Your photos can either be burned on a CD and sent via snail mail or emailed as an attachment.  Ideally your image files would be a few megabytes or less in size so that they will have sufficient detail but are not so large that they might hang up in an email server or be difficult to manipulate. Scanned images of historic photos are always appreciated, especially if they are of high enough resolution to see details. Email can be sent to mjohn@historic-design.com.  I also accept standard film photographs, which can be sent to:
                                     Mark Johnston
                                     Historic Design Consulting LLC
                                     451 Westfield Lane
                                     Vadnais Heights, MN 55127
---
How to Photograph Your Historic Building
It is best to take exterior photos on  overcast days with the sun at your back. Too much sun can burn out details, especially on white or pastel colored houses. Moderate shadows can also obscure details under eaves or around porches. If you photograph your building on a sunny day, be sure the sun is at your back and shining on the side of the building with as few shadows as possible. This might require taking a few of your photos at different times of the day.
Exterior Photos.
Exterior shots should include each side of the house with as little sky and foliage as practical. If you want a color scheme for your historic building, it is important that you take close-up photographs of architectural details such as windows, siding, brick and stone, roof, details of porches, newels and posts, gable ends, towers, doors and entryways, trim and molding and roof cornices. It is often helpful to see a few photos of other buildings in your neighborhood so that I can learn about your building's surroundings and colors of adjacent buildings.  If I need any additional photos, I will contact you.
Interior Photos.
For interior consults we will require a few exterior shots of your building so we can determine your building's architectural style. Please photograph any remnants of original trim and take a few representative shots of surviving doors, windows, stair parts and other architectural details. This includes close-ups of molding around door panels, window muntins and fareplace mantels. It is important to let me know what I am looking at and where it is. Houses often had different styles of doors, molding and millwork depending whether it was in a utility room, a second floor bedroom, a main floor library or part of a later addition
---
If you have any questions about photos, scan or other documentation please email us at info@historic-design.com.